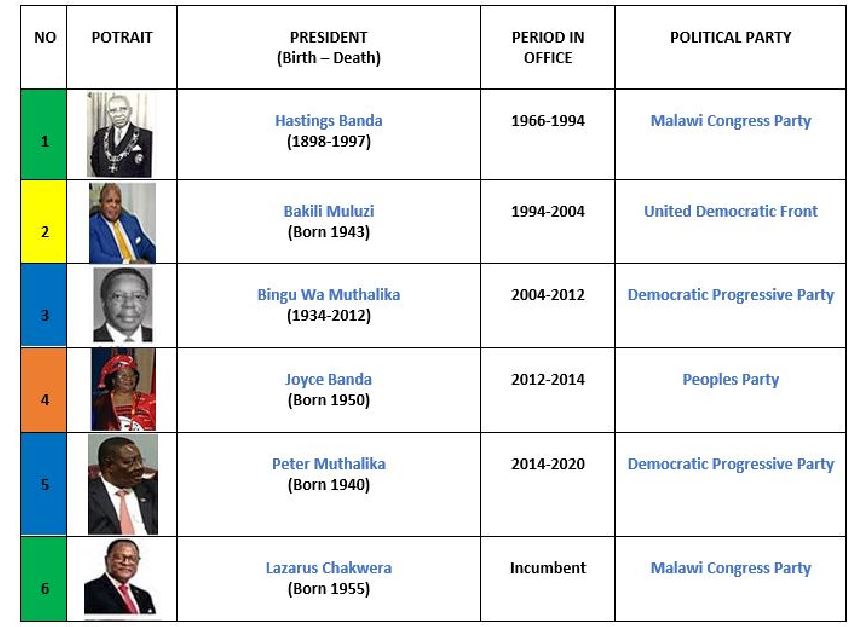 Malawi became a republic in 1962 with the founding President His Excellency Dr Kamuzu Banda of the Malawi Congress Party (MCP) as its Prime Minister before he became the first President after full Independency on 6th July 1964. Dr Banda ruled the Country for 31 years before stepping down in 1994 after conceding electoral defeat to Dr Bakili Muluzi of the United Democratic Front (UDF).


Dr Muluzi became the 2nd President of the republic on 24th May 1994. He ruled the Country for 10 years from 1994 to 2004, at the end of his Consititutional two terms. Professor Bingu Wa Mutharika then of UDF was elected as the third president of the republic.


In 2005 Professor Mutharika damped the UDF and formed his Democratic Progressive Party and was re-elected in 2009. In 2012 Professor Mutharika died of Cardiac arrest and his Vice Dr Joyce Banda took power as mandated by the Constitution.


By the time Dr Joyce Banda took power she had already left the DPP and was heading her Peoples Party (PP) which immediately became the ruling Party. Dr Joyce Banda left power after losing the 2014 election which was won by Professor Peter Mutharika, younger brother to late Bingu and new leader of the DPP.


Professor Peter Mutharika became the 5th President of the republic on 21st may 2014. Professor Mutharika left power on June 26th 2020 after losing the Fresh elections which was sanctioned by the Constitutional Court after it nullified the 2019 elections that had declared him a winner.


The current President Dr Lazarus Chakwera ascended to power on 28 June following a 58 % majority win of the fresh elections. He is the sixth President of the republic.