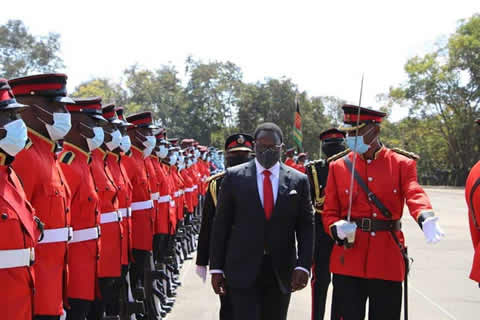 Commander-In-Chief Of The MDF
The Executive Arm of Government
The Executive Arm of Government comprises of the Presidency (President and Vice) and Cabinet Ministers and Deputy Ministers. The Executive is headed by the state
President, who is also the commander-in-chief of the Malawi Defence Force and Malawi Police Service.


The Current President of the Republic of Malawi is His Excellency Dr Lazarus McCarthy Chakwera. Dr Chakwera was elected as the sixth President of the Republic on 23rd June 2020. The President is also serving as the Minister of Defence.
The current Vice President is Right Honourable Dr Saulos Klaus Chilima. Dr Chilima is also responsible Public services reforms.


The dual were sworn in on 28th June 2020 at a colourful event which took place at Malawi Square, Bingu International Convention Centre in Lilongwe City. The inauguration of the sixth President took place on 6th July 2020 at Kamuzu Barracks in Lilongwe under the theme building a better Malawi. The inauguration which was set to take place simultaneously with the 56th Independence celebrations was moved to the Army barracks as a precaution to the Covid-19 pandemic. In both the speeches he made at the Swearing In and the Inauguration ceremonies Chakwera has emphasised on a servant leadership style of his Presidency and the need to make a Nation that brings opportunities and hope to all.


Cabinet
The Cabinet of Malawi is the executive branch of the government, made up of the President of Malawi, Vice President, Ministers and Deputy Ministers responsible for the different departments.


The Cabinet List
President of the Republic of Malawi, Commander-in-Chief of the Malawi Defence Force, His Excellency Dr. Lazarus McCarthy Chakwera.
Vice President of the Republic of Malawi, Right Honourable Dr. Saulos Klaus Chilima.
Minister of Finance and Economic Affairs, Hon. Simplex Chithyola Banda, MP.
Minister of Foreign Affairs – Hon. Nancy Tembo, MP.
Minister of Agriculture – Hon. Sam Kawale, MP.
Minister of Natural Resources and Climate Change – Hon. Michael Usi.
Minister of Local Government, Unity, and Culture – Hon. Richard Chimwendo Banda, MP.
Minister of Justice – Hon. Titus Mvalo.
Minister of Homeland Security – Hon. Dr. Ken Zikhale Ng'oma, MP.
Minister of Health – Hon. Khumbize Kandodo Chiponda, MP.
Minister of Trade and Industry – Hon. Sosten Gwengwe, MP.
Minister of Youth and Sports – Hon. Uchizi Mkandawire, MP.
Minister of Education – Hon. Madalitso Wirima Kambauwa, MP.
Minister of Transport and Public Works – Hon. Jacob Hara, MP.
Minister of Mining – Hon. Monica Chang'anamuno, MP.
Minister of Tourism – Hon. Vera Kamtukule.
Minister of Gender – Hon Jean Muonaowauza Sendeza, MP.
Minister of Labour – Hon. Agnes Makonda Nyalonje.
Minister of Defence – Hon. Harry Mkandawire.
Minister of Water and Sanitation – Hon. Abida Mia, MP.
Minister of Energy – Hon. Ibrahim Matola.
Minister of Lands – Hon. Deus Gumba, MP.
Minister of Information – Hon. Moses Kumkuyu.
Deputy Ministers

Deputy Minister of Local Government, Unity, and Culture – Hon. Owen Chomanika, MP.

Deputy Minister of Health – Hon. Halima Alima Daud, MP.

Deputy Minister of Education – Hon. Nancy Chaola Mdooko, MP.

Deputy Minister of Water and Sanitation – Hon. Liana Kakhobwe Chapota, MP