President of the Republic of Malawi Profile
Dr. Lazarus McCarthy Chakwera is the current President of Malawi. He was sworn into office on June 28, 2020 at Malawi Square at Bingu International Convention Centre, Lilongwe.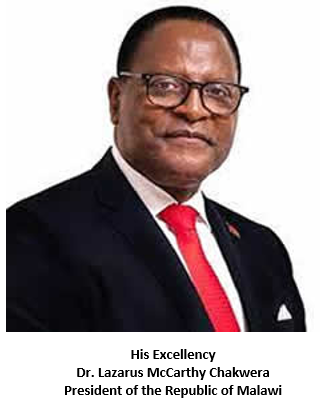 Before joining frontline politics, Chakwera was President of the Malawi Assemblies of God from 1989 until he resigned on May 14, 2013 to contest in the 2014 General Elections as a presidential candidate for the Malawi Congress party. That presidential election was marred by irregularities forcing the Electoral Commission to petition the High Court for permission to conduct a manual audit of the ballots.
Read More
About Office of President and Cabinet
The president of the Republic of Malawi is the head of state and head of government of Malawi. The president leads the executive branch of the government of Malawi and is the commander-in chief of the Malawian Defence Force....+MORE
An effective and efficient public service that facilitates the realization of national aspirations.
MALAWI VISION 2063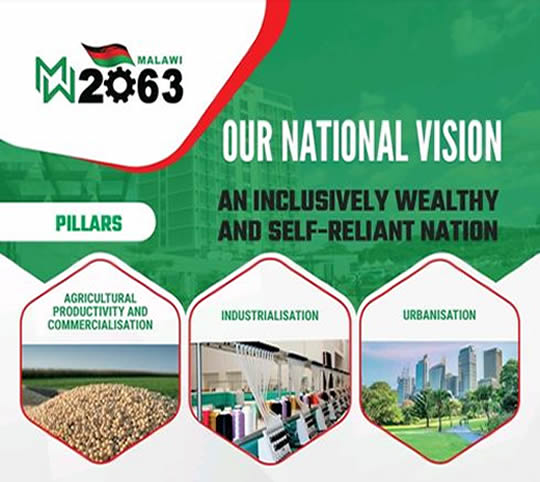 THE MALAWI WE WANT BY 2063


An inclusively wealthy and self-reliant industrialized upper middle-income country.
A vibrant knowledge-based economy with a strong and competitive manufacturing industry that is driven by a productive and commercially vibrant agriculture and mining sector.
World-class urban centers and tourism hubs across the country with requisite socio-economic amenities for a high-quality life.
A united, peaceful, patriotic and proud people that believe in their own abilities and are active participants in building their nation.
Effective governance systems and institutions with strict adherence to the rule of law.
A high-performing and professional public service.
A dynamic and vibrant private sector.
Globally competitive economic infrastructure.
A globally competitive and highly motivated human resource.
An environmentally sustainable economy ....+MORE